Hello, and welcome to the world of wellness and nutrition, gastronomic adventures, fun recipes and restaurant reviews. I am Alina Reyzelman, and I am passionate about food, ...
My journey to discover the benefits of healthy lifestyle started with personal experience. In my twenties, a few cups of coffee in the morning, a few glasses ...
There are a lot of reasons why we eat, only one of which is hunger. We eat for pleasure, flavor, we break bread with friends and family, we eat for comfort as well as nutrition and health.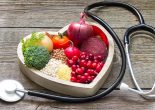 Heart health is as important as ever. Over the past few decades, we've sifted through the top medical research to determine the most important steps you can take to keep your heart in tiptop shape.
Falafel is vegetarians' answer to meatballs. These deep-fried orbs made out of ground fava beans, chickpeas or both, are crunchy balls of pleasure from the land of Middle East.
Warning
: file_get_contents(http://gdata.youtube.com/feeds/api/playlists/UOSNcpoSx8gt_Bou_qB4BBbwUrl5wjMs/?v=2&alt=json&feature=plcp&start-index=1&max-results=50): failed to open stream: HTTP request failed! HTTP/1.0 410 Gone in
/home/eatwellc/public_html/wp-content/plugins/sliding-youtube-gallery/engine/SygYouTube.php
on line
143
Browse through the Gallery by placing your cursor on the slider, moving right or left, and clicking to view ...