There are a lot of people in Japan who are over 100 years old – age that seems incredible for us! In 2015 the number of such people exceeded 60 000.
Aug, 04
Detox means preventing your body from developing harmful diseases and promoting anti-aging process. Therefore, I carefully select foods for my detox diet. The best foods for detox …
Jul, 08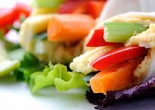 Well-balanced snacks between breakfast, lunch, and dinner can prevent cravings and the urge to eat larger portions at mealtime. Healthy snacks control appetite and provide energy.
Jul, 08
Foods contain certain vitamins and minerals that protect and maintain vital functions in the human body. Nutritional deficiencies increase with age; that's why it's crucial to increase …
May, 02