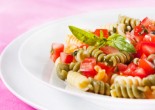 This dish is perfect comfort food, inspired by a rainy afternoon on Lake Como.
Jan, 15
Two simple and delicious ways to prepare fresh fish - Chilean Sea Bass and Salmon.
Nov, 19
When in Greece, you must eat lots of seafood and olive oil. Try this delicious and simple recipe that takes advantage of both!!
Oct, 29
The simplest ingredients can become elegant with a creative presentation.
Sep, 12
Mix the unmixable. Being creative in the kitchen, means to be bold. Don't be afraid to put together the ingredients that you never mixed before.
Sep, 12
Basil, parsley and coriander have rich aroma, delicious and vibrant taste. These wonderful herbs have been used in ancient medicine 3000 years ago.
Sep, 12
Enjoy a delicious tomato-based sauce for pasta or fresh vegetables, and a flavorful sea bass with pineapple.
Jun, 27