There are a lot of people in Japan who are over 100 years old – age that seems incredible for us! In 2015 the number of such people exceeded 60 000.
Aug, 04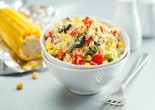 Ingredients: 10 oz. (280 ml) chicken stock 6 oz. (175 g) uncooked couscous 3 tbsp. olive oil 2 tbsp. fresh lime juice 1 tsp. red wine vinegar 1/2 teaspoon ground cumin
Jun, 18
Vitamins are not only vital for the body's normal function, but a combination of certain vitamins and minerals can work magic by reducing damage from toxins and pollution and prevent diseases.
May, 31
Many people do not see difference between veganism and vegetarianism but these are two different notions.
Oct, 05
Ingredients: 2 tbsp. of butter 2 cloves chopped garlic 1 teaspoon dried tarragon 1/4 cup dry white wine
Jul, 06
We all know about the healthy benefits of eating breakfast and other meals throughout the day. Its our fuel and gives us energy to function properly.
Jun, 28
Stay young and sexy with healthy foods like spinach and kale. Eat these vegies raw or cook them with your lean meats.
Jun, 15