Life under the red socialist banner is of interest to historians and common people who try to understand how Soviet people lived. The vanished empire was a country with extraordinary people.
May, 29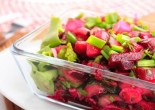 Soviet cuisine may not be the healthiest one; usually you have to use lots of meat such as beef or pork, butter, diary produce, flower and mayo to make a true Soviet dish.
May, 29
No summer barbecue will be complete without traditional pork kebabs also known as shashlyk. To prepare this dish you will need...
May, 29