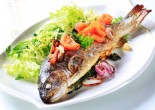 When you cook freshwater fish or ocean fish, it is enough to marinate it for half an hour, with exception of strongly-flavored fish such as mackerel, salmon.
Sep, 15
If you explore the Japanese lifestyle, you will probably be able to understand why life expectancy is the longest in Japan.
Sep, 15
A UNESCO committee added traditional Japanese cuisine to cultural heritage list. This prized designation had been given only to French cooking before.
Sep, 15