Ingredients 1 cup brown sugar 3 tbsp. unsalted butter 6 oz. (170 g) treacle ½ cup white flour
Mar, 18
When seasons change, our body may be affected by a weakening immune system. So, this spring, I recommend loading up on berries and spices.
Mar, 18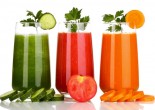 Let's get ready for summer with Detox. Detox is one of the key alternative treatments to prevent your body from heart conditions, cancer and obesity.
May, 21
Ingredients 2 tuna steaks 3 tbsp. lime juice 2 tbsp. soy sauce 3 cloves garlic, minced 3 tbsp. ginger, minced
May, 12
Many people these days struggle with high cholesterol. Eating healthy is a key to maintaining health therefore it's important to include nuts, fatty acids and herbs in the diet.
May, 12
Two simple and delicious ways to prepare fresh fish - Chilean Sea Bass and Salmon.
Nov, 19