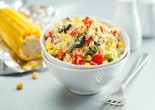 Ingredients: 10 oz. (280 ml) chicken stock 6 oz. (175 g) uncooked couscous 3 tbsp. olive oil 2 tbsp. fresh lime juice 1 tsp. red wine vinegar 1/2 teaspoon ground cumin
Jun, 18
Stay young and sexy with healthy foods like spinach and kale. Eat these vegies raw or cook them with your lean meats.
Jun, 15
Its almost summer time and bikini ready body is more important than ever. I'd like to tell you about powerful nutritional benefits of beans that could help you to stay fit and energized.
May, 05
Asparagus is a spring vegetable, derived from the lily family. It could win an award for being a king vegetable full of healthy nutrients. It's rich in folic acid, vitamin A, vitamin E, potassium, and vitamin K.
Apr, 19
Recently many wellness experts have been promoting to cut down the consumption of beef. However, when it comes to nutrition, beef has a competitive edge over other foods.
Jan, 12
Ahead of Thanksgiving I decided to highlight all the benefits of eating poultry meat such as chicken and turkey. Here are a few simple rules how to keep your chicken and turkey delicious and healthy.
Nov, 24
The winter is around the corner in Northern hemisphere. Let's stay fit, healthy and strong with the right nutrition that will help to fight colds and flu.
Oct, 22