I keep exploring the benefits of varicose foods and in this week's special are nutritious pineapple and papaya. I was fascinated to find out that those fruits ...
Mar, 14
This week's healthy tip is dedicated to figs, wonderful exotic fruit, natural libido booster and nature's medicine. Figs have been a nutritious food source for thousands of ...
Mar, 14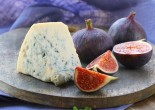 Ingredients
4 ripe figs, sliced
3 tbsp. olive oil
1 tbsp. balsamic vinegar
½ cup gorgonzola
6 oz. (175 g) smoked duck breast
1 cup watercress
Salt ...
Mar, 14