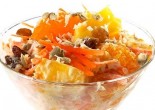 Ingredients: 1 grapefruit 3 bananas 5/8 cup (50 g) crushed almonds 2 oz. (50 g) raisins 4 baby carrots 1 tbsp. white wine vinegar 3 tbsp. olive oil 1 tsp. clear honey
Jun, 18
Ingredients 1 cup of spinach salad 1 cup of iceberg salad 1 orange (peeled and cut in slices)
Jul, 20
Many recent medical studies have shown the importance of vitamin C in a daily diet. Vitamin C is best known as a powerful antioxidant which protects the immune system.
Jul, 20
Ingredients: 1 cup sliced raw almonds 2 tbsp. sugar 3 tbsp. red wine vinegar 1/3 cup extra-virgin olive oil
Jun, 28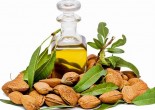 Healthy snack should not only manage your hunger and cravings, it should also provide nutritional benefits. That's why I think nuts are best snacks ever!
Jun, 28
Its important to stay hydrated in summer. The ebst way is to drink plenty of water. Or to inlcude juicy fruits into your diet…like watermelon.
Jun, 15
Stay young and sexy with healthy foods like spinach and kale. Eat these vegies raw or cook them with your lean meats.
Jun, 15