Ingredients: 0.5 lb. (270 g) spinach 0.5 lb. (270 g) kale 1 lb. (450 g) ground turkey
Jun, 15
If you are hosting a big party for Christmas you may want to surprise your guests with creative snacks and bites such as club sandwiches. Its quick and easy to prepare and it will keep your guests full and warm.
Dec, 25
Ingredients: 1 litre of chicken stock 1lb of turkey breast ground meat 1 fennel 1 cup of barley (cooked)
Dec, 25
If you want to get a quick idea of Cuban cuisine, you can imagine fusion of African, Spanish, Native American Taino and Caribbean cuisines. The Cuban cuisine resembles the cuisine of Puerto Rico and Dominican Republic due to their close geographical location.
Dec, 15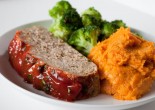 If you don't plan to make traditional stuffed turkey this season, than this post is for you! Are you thinking about creative dishes and innovative methods?
Nov, 24
Ahead of Thanksgiving I decided to highlight all the benefits of eating poultry meat such as chicken and turkey. Here are a few simple rules how to keep your chicken and turkey delicious and healthy.
Nov, 24
Improvise and be creative in the kitchen. Impress your loved ones with a delicious non-traditional stuffing made with Bulgur and Apricots
Nov, 26