Ingredients
1 cup of spinach salad
1 cup of iceberg salad
1 orange (peeled and cut in slices)
Jul, 20
Ingredients:
1 cup sliced raw almonds
2 tbsp. sugar
3 tbsp. red wine vinegar
1/3 cup extra-virgin olive oil
Jun, 28
Ingredients (serves 2):
4 grilled tiger shrimps
4 grilled scallops
10 cups baby spinach leaves
May, 27
Ingredients
10 oz. (280 ml) chicken stock
6 oz. (175 g) uncooked couscous
3 tbsp. olive oil
2 tbsp. fresh lime juice
May, 05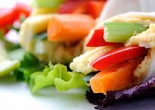 Well-balanced snacks between breakfast, lunch, and dinner can prevent cravings and the urge to eat larger portions at mealtime. Healthy snacks control appetite and provide energy.
Jul, 08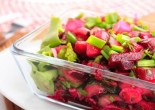 Soviet cuisine may not be the healthiest one; usually you have to use lots of meat such as beef or pork, butter, diary produce, flower and mayo to make a true Soviet dish.
May, 29