I am a great believer in a holistic approach because this concept supports the balance between psychological, physical and social aspects of people's lives.
May, 03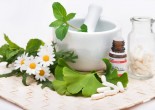 Alternative and traditional medicines have one big advantage over synthetic drugs; holistic philosophy is more concerned with intensification of the immune system.
May, 03
Basil, parsley and coriander have rich aroma, delicious and vibrant taste. These wonderful herbs have been used in ancient medicine 3000 years ago.
Sep, 12