Vitamins are not only vital for the body's normal function, but a combination of certain vitamins and minerals can work magic by reducing damage from toxins and pollution and prevent diseases.
May, 31
There is a famous saying: we are what we eat. We often pay attention to WHAT we eat but neglect at the same time HOW we do it.
Oct, 06
Many people do not see difference between veganism and vegetarianism but these are two different notions.
Oct, 05
Don't know how to spoil your other half on Valentine's Day? Here are a few ides how to create the ambience of love, passion and deliciousness in and outside of the kitchen.
Feb, 10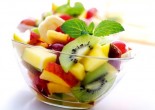 Maca root contains glucosinolates which has impressive effect on stamina, anti-aging and fertility boost. Maca provides a magic set of nutrients which supports endocrine system.
Feb, 10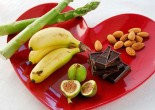 Valentine's Day is a perfect day to learn a bit more about aphrodisiacs because they are natural libido boosters that can improve sex life of sexually deprived people.
Feb, 10
I am so honoured to interview one of the leading healthy eating experts Michele Promaulayko!
Jan, 27