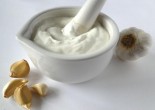 Ingredients:
1 egg yolk
1/4 cup fresh lemon juice
15 cloves garlic, crushed
1/2 cup olive oil
May, 10
One ingredients that is integral to Asian cooking is garlic. It is called 'suan', or "da suan" in northeast China, that could be translated as 'big garlic'.
May, 10
Garlic has a powerful smell and taste, as well as powerful medicinal qualities. Garlic has sulphur-containing compounds that create not only a spicy aroma but healing powers.
May, 10