I love reading new exciting medical research findings on nutritional value of foods. In our modern day and age, its good to know why certain foods are better for you then others.
May, 05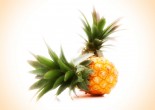 Pineapple is not only juicy, exotic and delicious, it's a great source of healthy nutrients. This tropical fruit is a natural digestive enhancer due to its bromelain compound, which is a proteolytic enzyme.
Mar, 18
Figs have been a nutritious food source for thousands of years. This sweet fruit is low in calories but rich in minerals and vitamins. One hundred grams of figs have more calcium than milk or any other fruit.
Nov, 11
It is so easy to lose weight in summer when rich nature presents abundance of fruits and vegetables to us. It would be a huge mistake to ignore this.
Sep, 05
Banana has many beneficial heath elements, and it's also a popular aphrodisiac because of its phallic shape and soft texture.
Jul, 17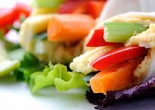 Well-balanced snacks between breakfast, lunch, and dinner can prevent cravings and the urge to eat larger portions at mealtime. Healthy snacks control appetite and provide energy.
Jul, 08
What are healthy and nutritious choices for breakfast? In different cultures people eat different foods for their first meal of the day; so breakfast may consist of ...
Jul, 17