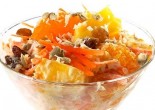 Ingredients: 1 grapefruit 3 bananas 5/8 cup (50 g) crushed almonds 2 oz. (50 g) raisins 4 baby carrots 1 tbsp. white wine vinegar 3 tbsp. olive oil 1 tsp. clear honey
Jun, 18
Asparagus is a spring vegetable, derived from the lily family. It could win an award for being a king vegetable full of healthy nutrients. It's rich in folic acid, vitamin A, vitamin E, potassium, and vitamin K.
Apr, 19
I am so honoured to interview one of the leading healthy eating experts Michele Promaulayko!
Jan, 27
Detox means preventing your body from developing harmful diseases and promoting anti-aging process. Therefore, I carefully select foods for my detox diet. The best foods for detox ...
Jul, 08
We all wish to look great to put on bikini in summer therefore in spring we repeat the same ritual each year in the effort to get slim for summer.
May, 21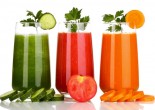 Let's get ready for summer with Detox. Detox is one of the key alternative treatments to prevent your body from heart conditions, cancer and obesity.
May, 21