Nanaimo Bars are the classic Canadian hand-held dessert. You will need about an hour to prepare this dish or so.
Jun, 28
Koeksister is a treat in South Africa, which is a syrup-coated doughnut. It can be finished with sprinkling of coconut but more often its Africaner version can be seen.
Sep, 04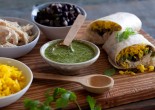 If you want to cook dishes of Cuban cuisine you should learn to prepare sauces, which are at the basis of many dishes. Meat is served in light sauces in Cuban cuisine. Mojo sauce is the most popular one.
Dec, 15