All people who live in Cuba adore this meat dish. This is the most popular Cuban steak. It should be thin – about a quarter inch or so.
Jul, 21
The main feature of Cuban cuisine is its simplicity. However, the cuisine is robust and includes many delicious dishes loved throughout the world.
Jul, 21
Ingredients: Sugar – a cup and a half 6 egg yolks and 3 egg whites Milk – a couple of cups Lemon peel Cinnamon – a stick Vanilla – 1 tsp Salt – ¼ tsp
Dec, 26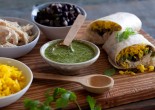 If you want to cook dishes of Cuban cuisine you should learn to prepare sauces, which are at the basis of many dishes. Meat is served in light sauces in Cuban cuisine. Mojo sauce is the most popular one.
Dec, 15
If you want to get a quick idea of Cuban cuisine, you can imagine fusion of African, Spanish, Native American Taino and Caribbean cuisines. The Cuban cuisine resembles the cuisine of Puerto Rico and Dominican Republic due to their close geographical location.
Dec, 15