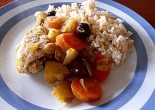 Foul is tough in Africa. It refers even to chicken. For this reason, it is important to tenderize the dish. Stew is just one of the methods.
Feb, 02
Ingredients: 2 Grilled chicken breasts (sliced into 4 pieces) Whole wheat bread with sunflower and pumpkin seeds 2 tbsp mayo
Dec, 26
If you are hosting a big party for Christmas you may want to surprise your guests with creative snacks and bites such as club sandwiches. Its quick and easy to prepare and it will keep your guests full and warm.
Dec, 25
Ahead of Thanksgiving I decided to highlight all the benefits of eating poultry meat such as chicken and turkey. Here are a few simple rules how to keep your chicken and turkey delicious and healthy.
Nov, 24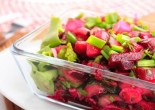 Soviet cuisine may not be the healthiest one; usually you have to use lots of meat such as beef or pork, butter, diary produce, flower and mayo to make a true Soviet dish.
May, 29