All people who live in Cuba adore this meat dish. This is the most popular Cuban steak. It should be thin – about a quarter inch or so.
Jul, 21
I love cooking steaks. It's quick, easy and delicious. And it is a perfect meal on a cold winter night. Over the years I perfected my cooking with a few simple tips.
Jan, 12
Ingredients: 2 tbsp olive oil 1/4 cup peppercorns 1/2 cup crème fraîche 1/2 cup beef stock Salt & Pepper to taste
Jan, 12
Recently many wellness experts have been promoting to cut down the consumption of beef. However, when it comes to nutrition, beef has a competitive edge over other foods.
Jan, 12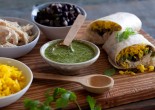 If you want to cook dishes of Cuban cuisine you should learn to prepare sauces, which are at the basis of many dishes. Meat is served in light sauces in Cuban cuisine. Mojo sauce is the most popular one.
Dec, 15
If you want to get a quick idea of Cuban cuisine, you can imagine fusion of African, Spanish, Native American Taino and Caribbean cuisines. The Cuban cuisine resembles the cuisine of Puerto Rico and Dominican Republic due to their close geographical location.
Dec, 15
Cultures of different civilizations affected the Syrian cuisine and cultural development of the region. Damascus was the capital of Umayyad Empire in the past and the city of Abbasid Caliphate, influenced by Persia.
Oct, 22