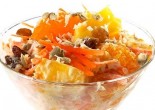 Ingredients:
1 grapefruit
3 bananas
5/8 cup (50 g) crushed almonds
2 oz. (50 g) raisins
4 baby carrots
1 tbsp. white wine vinegar
3 tbsp. olive oil
1 tsp. clear honey
Jun, 18
Ingredients:
1 cup sliced raw almonds
2 tbsp. sugar
3 tbsp. red wine vinegar
1/3 cup extra-virgin olive oil
Jun, 28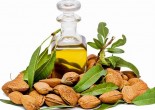 Healthy snack should not only manage your hunger and cravings, it should also provide nutritional benefits. That's why I think nuts are best snacks ever!
Jun, 28
Many people these days struggle with high cholesterol. Eating healthy is a key to maintaining health therefore it's important to include nuts, fatty acids and herbs in the diet.
May, 12