Trendy waters are all the rage, but how many of them really have health benefits? A dietitian investigates which ones to say "yes" and "no" to.
Jul, 06
To juice or not to juice? That is the real question. With the CDC recommending 2-4 servings of fruit and 3-5 servings of veggies each day, it seems like a good idea. But...
Jun, 28
There's a lot more going on with Greek yogurt than just using it to fill up your morning parfait or smoothie bowl.
Jun, 17
A packaged food that is low in sugar? They do exist, and we did the homework for you. Pick up one of these eight packaged foods that are low in sugar and all-around smart choices for you.
Jun, 08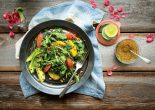 It may not sound like a natural combination, but trust—these two healthy ingredients truly shine together.
Jun, 04
With everyone from Jay-Z to Jennifer Lopez touting the benefits of a dairy-free diet, it's little wonder that our curiosity about eliminating dairy has piqued.
May, 25
Why Zinc Matters? Zinc is a powerful micronutrient that's essential for immunity, cell growth and division, wound healing, and immune function.
Apr, 02