Chia seeds (salvia hispanica) have become one of the most popular superfoods in the health community. They're easy to digest when prepared properly and a very versatile ingredient that adds easily to recipes.
Aug, 15
Want to fight off that illness that's spreading around the office or your child's school? Just add these superfoods to your diet for an extra flu-fighting punch.
Jul, 25
Fatigue can be a feeling of sleepiness or lack of energy. Many of you have experienced it for a short while, or maybe for a long period of time.
Jun, 28
You may know that vegetables are good for you, but you may not know that sea vegetables should also be included in a healthy diet.
Jun, 06
Read about vitamins for women that claim to provide beauty benefits in addition to increasing your overall health and mental well-being.
May, 26
Dieting can never be a natural process, and most people lack the mindset to stick to strict diets. That's why we need to know about the 10 best diet books 2017.
May, 09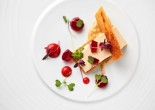 Cocktails in ice spheres. Caviar made of olive oil. Disappearing transparent raviolis. Sound cool? Well these are all examples of Molecular Gastronomy.
Nov, 21