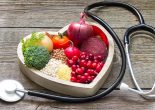 Heart health is as important as ever. Over the past few decades, we've sifted through the top medical research to determine the most important steps you can take to keep your heart in tiptop shape.
Jan, 16
Most Christmas lunches are packed with nutrients thanks to them containing turkey and veg. But all the extras can quickly tot up the calories, too.
Dec, 15
No matter how motivated you are to eat well, you might find yourself seeking solace from food. Here are three tips to help you handle stress eating.
Nov, 27
Overcoming anxiety without medications involves making lifestyle changes, and that includes changing your diet.
Sep, 30
Whether you're plugging away on a demanding work project or aiming for a personal best in your next marathon, eating better can support your efforts.
Sep, 24
You could have anxiety and not even know it. Luckily, it's easy to treat.
Sep, 12
Chia seeds (salvia hispanica) have become one of the most popular superfoods in the health community. They're easy to digest when prepared properly and a very versatile ingredient that adds easily to recipes.
Aug, 15