This healthy lunch under 400 calories makes it easy to track your calories all week long.
May, 25
You're working like a dog — hitting the gym, tracking calories — but you just can't shrink your pooch. Learn six surprising reasons the scale is stuck, plus how to make over your metabolism.
May, 25
With everyone from Jay-Z to Jennifer Lopez touting the benefits of a dairy-free diet, it's little wonder that our curiosity about eliminating dairy has piqued.
May, 25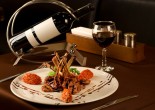 My journey to discover the benefits of healthy lifestyle started with personal experience. In my twenties, a few cups of coffee in the morning, a few glasses of wine in the evening, and junk food in between were not a problem.
Jan, 01
Hello and welcome to the world of wellness and nutrition, gastronomic adventures, fun recipes and restaurant reviews. I am Alina Reyzelman, and I am passionate about food, cooking, healthy lifestyle, learning and sharing my findings with you.
Jan, 01