As it turns out, a good hot drink is pretty much everyone's favorite, and each corner of the world has its own unique take. So grab your mug and get scrolling through these delicious winter beverages.
Mar, 07
A basked filled with luscious blue or dark red fruit and vegetables contains a wealth of incredible health benefits.
Feb, 15
The seas surrounding the Korean peninsula provide not only many types of seafood, like tuna, king crab and squid, but moisture for the fertile soil needed to grow rice and grain.
Jan, 12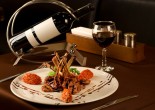 My journey to discover the benefits of healthy lifestyle started with personal experience. In my twenties, a few cups of coffee in the morning, a few glasses of wine in the evening, and junk food in between were not a problem.
Jan, 01
Hello and welcome to the world of wellness and nutrition, gastronomic adventures, fun recipes and restaurant reviews. I am Alina Reyzelman, and I am passionate about food, cooking, healthy lifestyle, learning and sharing my findings with you.
Jan, 01