If one of your 2017 resolutions is to get healthier, don't limit yourself to logging miles on the treadmill or eating your weight in kale.
Jun, 06
On most airlines, the food resembles the blankets—rarely free and small in size. But some carriers, mostly long-haul foreign ones, are embarking on a new culinary flight path.
May, 26
There are thousands of meals that you can make with a vegetable mix, from simple salads and healthy casserole to veggie soup and burgers. This time we've made a superb list of best vegetable soup ideas.
May, 09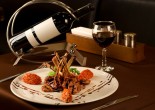 My journey to discover the benefits of healthy lifestyle started with personal experience. In my twenties, a few cups of coffee in the morning, a few glasses of wine in the evening, and junk food in between were not a problem.
Jan, 01
Hello and welcome to the world of wellness and nutrition, gastronomic adventures, fun recipes and restaurant reviews. I am Alina Reyzelman, and I am passionate about food, cooking, healthy lifestyle, learning and sharing my findings with you.
Jan, 01