Ingredients:
1 tbsp. olive oil
10 oz. (300 g) mushrooms
Couple of stalks celery
Several sage leaves
Jun, 06
Once you taste this pan roasted cod recipe, the flavor will tell you why!
Ingredients:
Cod fillets – 4
½ cup of chorizo
1 green bell pepper
1 large tomato
May, 26
There are thousands of meals that you can make with a vegetable mix, from simple salads and healthy casserole to veggie soup and burgers. This time we've made a superb list of best vegetable soup ideas.
May, 09
Matcha Pear Green Protein Smoothie Recipe
Serves 1
Total time: 5 minutes
Ingredients:
1 packet (2 scoops) DailyBurn Fuel-6 Protein in vanilla
Mar, 28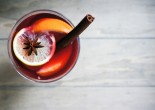 Soothing drink recipes to take your mind off the return to work and the cold and dreary weather. Try an uplifting mug of mulled quince cider, a regal hot chocolate or perhaps a hot elderberry-ginger tea …
Mar, 07
Blueberry Sandwich "Holly Berry"
Ingredients
2 pieces whole wheat bread
½ cup of Mozzarella cheese.
1 package of spinach
Feb, 15
Korean sweet pancakes (Hotteok) are one of the most popular Korean street snacks. They are particularly popular in winter. They were introduced by Chinese immigrants in the early 1900s in Korea.
Jan, 12