The combination of kale and avocado makes this healthy smoothie recipe extra green. Chia seeds lend this creamy smoothie a heart-healthy punch of fiber and omega-3 fatty acids.
Jun, 11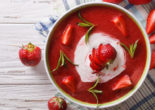 Sweet strawberries are paired with aromatic lemon thyme in this beautiful chilled soup recipe that's perfect for special occasions.
Jun, 03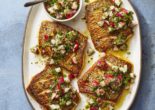 Rich in flavor and nutrients, this dish can be made ahead for busy weeknights. Even better, if you buy radishes with the tops still attached, you can use any leftovers in salsas, sauces and sautés.
May, 13
The original old family recipe for this casserole called for the sauce to be made from scratch. Through the years, I developed this version that takes less time to prepare and still tastes great.
Apr, 26
Cooking tender shrimp and noodles inside a parchment packet with aromatic coconut, curry and lemongrass creates big flavor without much added fat or salt.
Apr, 15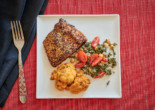 Keep this recipe in your back pocket for nights it seems you don't have time to cook dinner. It takes just 20 minutes from start to finish.
Apr, 07
You know you need to eat your broccoli. It's rich in phenolics—antioxidants that are linked to a lower risk of cancer and diabetes—and fiber.
Mar, 22