Cooking tender shrimp and noodles inside a parchment packet with aromatic coconut, curry and lemongrass creates big flavor without much added fat or salt.
Apr, 15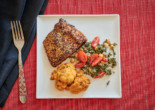 Keep this recipe in your back pocket for nights it seems you don't have time to cook dinner. It takes just 20 minutes from start to finish.
Apr, 07
You know you need to eat your broccoli. It's rich in phenolics—antioxidants that are linked to a lower risk of cancer and diabetes—and fiber.
Mar, 22
Peanut butter and curry flavor this savory overnight oats recipe. The healthy breakfast is easy to prepare and perfect for anyone who loves oatmeal, but doesn't have a big sweet tooth.
Feb, 18
Ethiopian food is both distinctive and delicious, befitting a remarkable country with a cultural heritage that stands out from the rest of Africa.
Feb, 06
'Tis the season for toasting to family, friends, and the end of another year. It's okay to indulge but celebrating doesn't need to wreck your waistline when you sip on one of these low-sugar holiday cocktails.
Dec, 29
That post-workout protein boost has never tasted so good.
Dec, 04