'Tis the season for toasting to family, friends, and the end of another year. It's okay to indulge but celebrating doesn't need to wreck your waistline when you sip on one of these low-sugar holiday cocktails.
Dec, 29
That post-workout protein boost has never tasted so good.
Dec, 04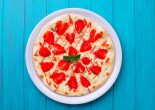 Because who are we to deny you bacon? Pair it with fresh strawberries for a sweet-and-savory combo you'll fall for fast.
Oct, 04
Stop eating regular spaghetti and start slurping up zucchini noodles instead. They pack some serious health perks—and your taste buds won't even know the difference.
Sep, 12
Active time: 40 minutes Total time: 1 hour 30 minutes Makes: 6 servings
Sep, 05
Try to find ruby-red or star-ruby grapefruit, since their dark-pink flesh makes the most beautiful juice.
Aug, 22
Bored with eating the same old salads day after day? We feel you. That's why we came up with healthy salad ideas for every day of the week. And then we made it better by tossing in this superfood-packed recipe.
Jul, 31