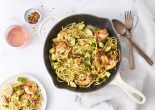 Get your fill of good-for-you carbs with these healthy pasta dishes. Make sure to cook with whole wheat pasta to get more protein and fiber.
Apr, 02
I am back on my favourite topic – superfoods. Superfoods do prove that they give you that extra super boost for your physical and mental health.
May, 11
Cherries are a wonderful spring produce and why not to mix seasonal foods with gourmet cooking methods?
Ingredients
1 tbsp. olive oil
1/2 cup fresh cherries
1 ...
Apr, 10
I keep exploring high quality ingredients and food manufacturers. Today, I am happy to present my Top 5 favourite high quality and gourmet food brands and their ...
Apr, 10
Spring brings a lot of delicious and nutritious vegetables. I love fresh seasonal produce because it's easy to add spring vegetables into complex creative gourmet dishes and ...
Apr, 10
In this week's Issue, I wanted to explore the new kitchen appliances and brands that make exceptional kitchenware. I couldn't miss the launch of two new products ...
Mar, 31
Creative and healthy cooking could be inspired by innovative kitchen gadgets, luxury cookware and appliances. Eat Well Co presents its favourite Top 5 luxury kitchen brands and ...
Mar, 31