At the end of a tough day, it can be hard to motivate yourself to cook a healthy meal. We've all been there: sometimes you just have to order in or resort to pre-packaged foods.
Mar, 28
Matcha Pear Green Protein Smoothie Recipe
Serves 1
Total time: 5 minutes
Ingredients:
1 packet (2 scoops) DailyBurn Fuel-6 Protein in vanilla
Mar, 28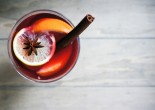 Soothing drink recipes to take your mind off the return to work and the cold and dreary weather. Try an uplifting mug of mulled quince cider, a regal hot chocolate or perhaps a hot elderberry-ginger tea …
Mar, 07
As it turns out, a good hot drink is pretty much everyone's favorite, and each corner of the world has its own unique take. So grab your mug and get scrolling through these delicious winter beverages.
Mar, 07
Blueberry Sandwich "Holly Berry"
Ingredients
2 pieces whole wheat bread
½ cup of Mozzarella cheese.
1 package of spinach
Feb, 15
A basked filled with luscious blue or dark red fruit and vegetables contains a wealth of incredible health benefits.
Feb, 15
Korean sweet pancakes (Hotteok) are one of the most popular Korean street snacks. They are particularly popular in winter. They were introduced by Chinese immigrants in the early 1900s in Korea.
Jan, 12