Ingredients:
4 beets of medium size
2 avocados, peeled, pitted and cubed
1 package of salad mixed greens
Aug, 15
Chia seeds (salvia hispanica) have become one of the most popular superfoods in the health community. They're easy to digest when prepared properly and a very versatile ingredient that adds easily to recipes.
Aug, 15
While few of us these days would consume a piece of meat that has a 40 per cent fat content, it's estimated that most people today get about 40 per cent of their daily calories from fat.
Aug, 15
Ingredients:
1 stick of soft butter
½ cup of brown sugar
1 egg
½ cup golden syrup (or molasses)
Jul, 26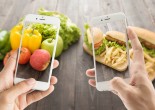 Get creative with your condiments this summer and pimp your yoghurt with a savoury twist!
Jul, 26
Want to fight off that illness that's spreading around the office or your child's school? Just add these superfoods to your diet for an extra flu-fighting punch.
Jul, 25
Ingredients:
1 package baby spinach leaves
4 eggs, beaten
2 tbsp. olive oil
1/2 cup minced onion
Jun, 29