This healthy lunch under 400 calories makes it easy to track your calories all week long.
May, 25
You're working like a dog — hitting the gym, tracking calories — but you just can't shrink your pooch. Learn six surprising reasons the scale is stuck, plus how to make over your metabolism.
May, 25
With everyone from Jay-Z to Jennifer Lopez touting the benefits of a dairy-free diet, it's little wonder that our curiosity about eliminating dairy has piqued.
May, 25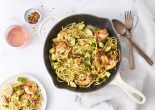 Get your fill of good-for-you carbs with these healthy pasta dishes. Make sure to cook with whole wheat pasta to get more protein and fiber.
Apr, 02
Why Zinc Matters? Zinc is a powerful micronutrient that's essential for immunity, cell growth and division, wound healing, and immune function.
Apr, 02
Japan is a popular destination for its historical sites and rich cultural heritage, but also as a culinary destination in its own right.
Mar, 13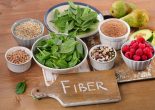 Eat right, look younger — it's as simple as that. Here are 7 anti-aging foods that may help to erase wrinkles and help you look younger.
Mar, 12