Overcoming anxiety without medications involves making lifestyle changes, and that includes changing your diet.
Sep, 30
Ingredients
1 avocado
1 tsp. powdered maca root
1 cup of fresh or frozen raspberries
Sep, 30
Yes, wine may protect our hearts when consumed in moderation — defined as up to one drink per day for women, and up to two drinks per day for men, according to US dietary guidelines.
Sep, 30
Whether you're plugging away on a demanding work project or aiming for a personal best in your next marathon, eating better can support your efforts.
Sep, 24
Ingredients:
1 cup of vegetable stock
2 tbsp olive oil
2 garlic cloves, finely chopped
Sep, 12
You could have anxiety and not even know it. Luckily, it's easy to treat.
Sep, 12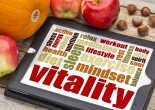 How do I make an intelligent choice between getting enough sleep, eating well and regularly exercising?
Sep, 12