There are a lot of reasons why we eat, only one of which is hunger. We eat for pleasure, flavor, we break bread with friends and family, we eat for comfort as well as nutrition and health.
Jan, 16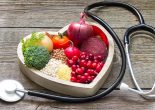 Heart health is as important as ever. Over the past few decades, we've sifted through the top medical research to determine the most important steps you can take to keep your heart in tiptop shape.
Jan, 16
Falafel is vegetarians' answer to meatballs. These deep-fried orbs made out of ground fava beans, chickpeas or both, are crunchy balls of pleasure from the land of Middle East.
Jan, 16
Most Christmas lunches are packed with nutrients thanks to them containing turkey and veg. But all the extras can quickly tot up the calories, too.
Dec, 15
Healthy eating means that you will have a healthy lifestyle. Almost all health experts will tell you that what you eat plays a very important role in your overall health and well being.
Dec, 15
Do you love rice pudding? Do you love crème brulee? This just might be your new favorite dessert.
Dec, 15
Based on nearly 80 years of studying adult development, researchers narrowed down seven tenets that lead to a long, healthy, fulfilling life.
Nov, 27