There are a lot of reasons why we eat, only one of which is hunger. We eat for pleasure, flavor, we break bread with friends and family, we eat for comfort as well as nutrition and health.
Jan, 16
Healthy eating means that you will have a healthy lifestyle. Almost all health experts will tell you that what you eat plays a very important role in your overall health and well being.
Dec, 15
Based on nearly 80 years of studying adult development, researchers narrowed down seven tenets that lead to a long, healthy, fulfilling life.
Nov, 27
These Japanese chefs work at some of the most exciting restaurants in the country – but where do they go to eat and drink when they're off duty?
Oct, 23
Yes, wine may protect our hearts when consumed in moderation -- defined as up to one drink per day for women, and up to two drinks per day for men, according to US dietary guidelines.
Sep, 30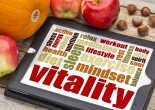 How do I make an intelligent choice between getting enough sleep, eating well and regularly exercising?
Sep, 12
While few of us these days would consume a piece of meat that has a 40 per cent fat content, it's estimated that most people today get about 40 per cent of their daily calories from fat.
Aug, 15