While few of us these days would consume a piece of meat that has a 40 per cent fat content, it's estimated that most people today get about 40 per cent of their daily calories from fat.
Aug, 15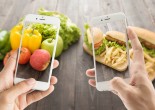 Get creative with your condiments this summer and pimp your yoghurt with a savoury twist!
Jul, 26
Unless you've been living in an actual cave, you've probably heard all about the Paleo – or "caveman" – diet. Maybe you've even tried it. But is it healthy? And does it work?
Jun, 29
If one of your 2017 resolutions is to get healthier, don't limit yourself to logging miles on the treadmill or eating your weight in kale.
Jun, 06
On most airlines, the food resembles the blankets—rarely free and small in size. But some carriers, mostly long-haul foreign ones, are embarking on a new culinary flight path.
May, 26
Spring beriberi – a very common phenomenon!
How to recognize, and then quickly cure beriberi – read our article!
May, 09
At the end of a tough day, it can be hard to motivate yourself to cook a healthy meal. We've all been there: sometimes you just have to order in or resort to pre-packaged foods.
Mar, 28