Power Foods That Boost Immunity
Want to fight off that illness that's spreading around the office or your child's school? Aside from practicing good hygiene, boosting your immune system is a great way to start.
Just add these superfoods to your diet for an extra flu-fighting punch.
Garlic
This potent onion relative contains the active ingredient allicin, which fights infection and bacteria. British researchers gave 146 people either a placebo or a garlic extract for 12 weeks; the garlic takers were two-thirds less likely to catch a cold. Other studies suggest that garlic lovers who chow more than six cloves a week have a 30% lower rate of colorectal cancer and a 50% lower rate of stomach cancer.
Shellfish
Selenium, plentiful in shellfish such as oysters, lobsters, crabs, and clams, helps white blood cells produce cytokines—proteins that help clear flu viruses out of the body. Salmon, mackerel, and herring are rich in omega-3 fats, which reduce inflammation, increasing airflow and protecting lungs from colds and respiratory infections.
Yogurt
Probiotics, or the "live active cultures" found in yogurt, are healthy bacteria that keep the gut and intestinal tract free of disease-causing germs. Although they're available in supplement form, a study from the University of Vienna in Austria found that a daily 7-ounce dose of yogurt was just as effective in boosting immunity as popping pills. In an 80-day Swedish study of 181 factory employees, those who drank a daily supplement of Lactobacillus reuteri—a specific probiotic that appears to stimulate white blood cells—took 33% fewer sick days than those given a placebo. Any yogurt with a "Live and Active Cultures" seal contains some beneficial bugs, but Stonyfield Farm is the only US brand that contains this specific strain.
Oats and Barley
These grains contain beta-glucan, a type of fiber with antimicrobial and antioxidant capabilities more potent than echinacea, reports a Norwegian study. When animals eat this compound, they're less likely to contract influenza, herpes, even anthrax; in humans, it boosts immunity, speeds wound healing, and may help antibiotics work better.
Elderberry
It's an old folk remedy. This fruit is loaded with nutrients called antioxidants, and it may help fight inflammation. In some lab studies, an extract from the berries appears to block flu viruses. But scientists caution that more study is needed. You definitely still need to get a yearly flu vaccination!
Watermelon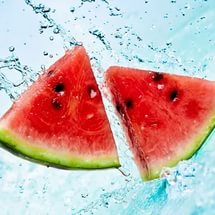 It's not only refreshing. When it's ripe, it's also got plenty of an antioxidant called glutathione. It strengthens the immune system so it can fight infection.
To get the most glutathione in your watermelon, eat the red pulpy flesh near the rind.
Spinach
You'll find lots of nutrients in this "super food." One of them is folate, which helps your body make new cells and repair DNA. It also boasts fiber, antioxidants such as vitamin C, and more. Eat spinach raw or lightly cooked to get the most benefit.
Chicken Soup
There's hard science behind Grandma's favorite cold remedy. Homemade chicken soup really can ease your symptoms and may help you get well sooner. What's more, there's a chemical in it called carnosine that can protect your body from the flu virus. Don't have time to make soup from scratch? Researchers say many store-bought soups have the same effect.