Healthy Vegetarian Soup Recipes
There are thousands of meals that you can make with a vegetable mix, from simple salads and healthy casserole to veggie soup and burgers. But a nice, big bowl of homemade vegetable soup is one of the best ways to get a lot of the veggies you need all in one dish. Besides their clear health benefits, vegetable soups are the perfect canvas for what's in season. Soup season is definitely upon us and you need to visit us. This time we've made a superb list of  best vegetable soup ideas.
TOMATO AND RED PEPPER SOUP WITH GRILLED CHEESE CROUTONS
This easy vegetable soup recipe won't take you more than 35minutes. It's not only easy but also tasty.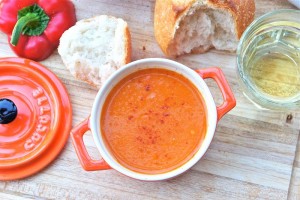 For your soup, you'll need:
2 tbsp. of butter
1 medium-size onion
2 medium red bell peppers
2 tbsp. of tomato paste
2 garlic cloves
1 tsp. of smoked paprika
1 tsp. of sugar
½ tbsp. Kosher salt
1 can of whole peeled plum tomatoes with basil
⅓ cup of heavy cream
1½ cup vegetable broth
⅓ cupof chopped fresh basil
½ tsp. of freshly ground pepper
Grilled Cheese Croutons
To make the grilled cheese croutons, you'll need:
1¼ cup of shredded aged white Cheddar cheese
4 slices of toasted multigrain sourdough bread
1 garlic clove.
DIRECTIONS:
Cook your chopped onions and pepper in a size able Dutch oven over a medium-temperature heat for about 10 minutes or until tender. Add garlic, tomato paste and smoked paprika and stir continually for about a minute. Then, add your whole peeled tomatoes, vegetable broth, sugar, kosher salt, ground pepper and stir.
Now, crush the tomatoes into little chunks with a spoon and let it boil; reduce the heat to a medium-low level and let it boil gently for about 15minutes. Stir in the cream and basil and season with pepper and salt. You can now do your toppings with the grilled Cheese Croutons and serve.
Grilled Cheese Croutons:
Rub the garlic clove into bread and place it on a baking sheet. Smidgen some cheese over it and broil for 2minutes; until the cheese is fully melted. Take it out and let it cool for a minute, then, chop into 1½-inch sizes.
MINESTRONE RAGOUT OVER POLENTA
This is another magnificent recipe for vegetable soup that you can make at home.Prepare a cup of ragout and 3 slices of polenta for a table of four and you're going to have an unforgettable moment. To make this, get the following ingredients:
2 teaspoons of olive oil
1 cup of peeled and diced eggplant
1/2 cup of chopped onion
1/2 cup sliced green bell pepper
1/3 cup of carrot(chopped)
1/2 cup red bell pepper(chopped)
1 teaspoon of dried Italian seasoning
1/4 teaspoon of ground red pepper
1/4 teaspoon of fennel seeds
1 minced garlic clove
1 can (14 1/2-ounce) of Italian-style stewed tomatoes(chopped and undrained)
1 cup of chopped spinach
1/3 cup of chopped fresh basil
cooking spray
half teaspoon of salt
1 cup of hot cooked orzo (about half cup rice-shaped pasta)
1 (16-ounce) tube polenta to be chopped into 12 slices
some basil sprigs (optional)
DIRECTIONS:
Set a large frying pan on fire, pour in some oil and heat. Put the chopped eggplant into the pan and add the onions, green bell pepper, red bell pepper, carrot, fennel seeds, red pepper and garlic and cook for 5minutes.
Now, add the tomatoes, stir and cook for 3minutes. Then, stir in basil, salt, spinach and orzo; allowing it to cook for a minute.
Preheat the broiler. Get a baking sheet that is coated with cooking spray, place the polenta on it and broil for 3minutes. Turn the other side unto the baking sheet and broil for an additional three minutes.
For serving, you may garnish with some basil as well.
Spiced Butternut Squash Soup
Ingredients:
1.5kg butternut squash, halved and seeded
50g butter
1 medium onion, sliced
1 leek, sliced
2 cloves garlic, sliced
1L chicken stock
2 large potatoes, peeled and quartered
1/8 teaspoon cayenne pepper
1/8 teaspoon ground allspice
1/8 teaspoon ground nutmeg
1/8 teaspoon ground ginger
salt and freshly ground black pepper to taste
125ml sherry
125ml double cream
125ml milk
125ml cup soured cream (optional)
DIRECTIONS:
Preheat the oven to 190 C / Gas mark 6. Pour a small layer of water in a baking dish, or a swiss roll tin. Place the squash halves cut side down on the dish. Bake for about 40 minutes, or until a fork can easily pierce the flesh. Cool slightly, then remove the peel. Set aside.
Melt the butter in a large pot over medium heat. Add the onion, leek and garlic, and saute for a few minutes, until tender. Pour the chicken stock into the pot. Add the potatoes, and bring to the boil. Cook for about 20 minutes, or until soft. Add the squash, and mash with the potatoes until chunks are small. Use an immersion hand blender to puree the soup, or transfer to a blender or food processor in batches, and puree until smooth. Return to the pot.
Season the soup with cayenne pepper, allspice, nutmeg, ginger, salt and pepper, then stir in the sherry, cream and milk. Heat through, but do not boil. Ladle into bowls, and top with a dollop of soured cream if desired.