Top 3 warming drinks
Soothing drink recipes to take your mind off the return to work and the cold and dreary weather. Try an uplifting mug of mulled quince cider, a regal hot chocolate or perhaps a hot elderberry-ginger tea …
Elderberry-ginger tea
You can create this nurturing, appealing ginger tea with warming herbs in a flash.
2 cups water
• 2 tea bags (black or green) OR 2 tablespoons loose tea
• 2 tablespoons dried elderberries
• 1 teaspoon ground ginger OR 1 teaspoon fresh minced ginger
• 1 teaspoon fennel seeds
In a medium saucepan, bring all ingredients to a boil. Remove from heat and steep for at least 5 minutes.
Strain through a fine-mesh strainer. Serve this soothing tea warm in mugs or teacups.
Peppermint Hot Chocolate
The marriage of peppermint and chocolate is a cold-weather favorite.
1 cup water
• 1⁄4 cup dried peppermint OR 1/2 cup fresh peppermint leaves, finely chopped
• 1 teaspoon peppermint extract (optional)
• 2 tablespoons honey OR agave nectar, to taste
• 1/2 cup unsweetened baking cocoa (preferably fair-trade)
• 1 tablespoon naturally sweetened chocolate chips (optional)
• 1 cup unsweetened soymilk OR water
In a small saucepan, boil water, peppermint, optional peppermint extract and sweetener. Remove from heat and steep for 5 or more minutes. Strain with a fine-mesh strainer. Reserve.
In a medium saucepan, combine mint mixture, cocoa, optional chips and soymilk (or water). Stir constantly over medium heat until you have a smooth, velvety texture.
Serve warm in mugs or demitasse cups.
Fresh tip: If you're lucky enough to have fresh peppermint leaves in the late fall and winter, be sure to use them in this warming drink recipe. In the summer, this drink is terrific served chilled.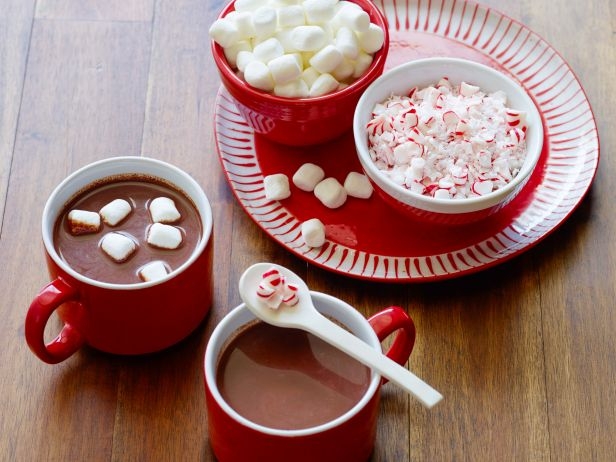 Mulled quince cider
Slow-poached spiced quince is a beautiful thing in both savoury and sweet settings, as at home with a roasted duck as it is simply accompanied by lashings of double cream. This warm and spicy alcoholic drink puts the delicious full-bodied poaching syrup to excellent use to create a sweet, spicy and fortifying tipple to beat the cold weather.
500ml water
100g caster sugar
1 cinnamon stick
2 star anise
3 juniper berries
3 quinces, cored and sliced into 8 wedges
600ml dry cider
1.  Dissolve 50g of the caster sugar in the water over a gentle heat, stirring regularly. Add the spices and the quince.
2. Cover with a lid and simmer slowly for two hours, topping up with a little water if needed. You should be left with a saucepan of amber-coloured fruit and a gorgeous spiced syrup. Strain the syrup, setting aside the quince to have with some ice-cream or in your morning porridge.
3. Mix the cider with the syrup and heat gently and briefly so as not to (God forbid) let all of the alcohol evaporate.