Stay Healthy in Spring: Try our best new recipe ideas!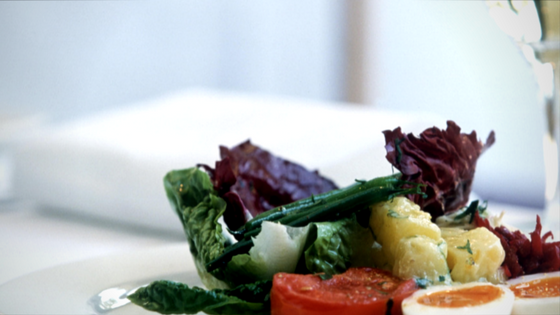 Matcha Pear Green Protein Smoothie Recipe
Serves 1
Total time: 5 minutes
Ingredients
1 packet (2 scoops) DailyBurn Fuel-6 Protein in vanilla
1 cup unsweetened almond milk
1 cup spinach
1 pear, cored
1/2 teaspoon of matcha tea powder
Preparation
Combine all ingredients in a blender and mix until smooth.
Curry Spice Vegetable and Grain Bowl Recipe
Serves 4
Prep time: 15 minutes
Cook time: 30- 40 minutes
Ingredients
1 cup brown rice, uncooked
3/4 cup brown lentils, uncooked
1 small yellow onion, finely chopped
3 1/2 cups water
1/2 tsp sea salt
1 tsp curry powder
1 medium sweet potato
1 medium Yukon gold potato
4 cups chopped kale
3 cups shredded purple cabbage
Juice of 1 lemon or lime
Drizzle of olive oil
1/4 cup chopped fresh cilantro
2 ripe avocados, cubed
Preparation
In a medium saucepan over high heat, combine the brown rice, lentils, water, salt and curry powder. Stir to combine and bring to a boil. Cover and reduce to a simmer. Cook until all of the liquid has absorbed and the rice and lentils are tender, about 30-40 minutes. If you need to add more water, do so.
Meanwhile, chop the sweet potato and Yukon gold potato into 1-inch cubes. Put them in a steamer basket and steam them over boiling water until they are fork tender, about 7-10 minutes. Set aside.
Add the chopped kale to a mixing bowl along with half of the lemon or lime juice, a drizzle of olive oil and a few pinches of salt. Massage the kale with your fingers until it becomes tender. Set aside.
Add the shredded cabbage to another mixing bowl and toss with the rest of the lemon or lime juice and a few pinches of salt. Massage the cabbage with your hands until it tenderizes a bit. Set aside.
When the rice and lentils have finished cooking, fluff them with a fork. Taste and add more seasoning, if desired. Then distribute them between four bowls (if you're making four servings). Top with the steamed potatoes, massaged kale, purple cabbage, cilantro and avocado. Enjoy!
Pineapple-Teriyaki Chicken
Grilled teriyaki chicken with pineapple can be made with just a few pantry staples. Although it's delicious when made with canned pineapple, fresh pineapple and its juice can easily be used in its place. Serve with brown rice and snow peas.
Ingredients
 4 servings
⅓ cup dry sherry
2 tablespoons brown sugar
¼ cup reduced-sodium soy sauce
1 20-ounce can pineapple rings, plus ⅓ cup juice from the can
4 large boneless, skinless chicken thighs, (about 1½ pounds), trimmed (see Tip)
1 teaspoon cornstarch
1 tablespoon butter
 Total time: 45 minutes
Preparation
Whisk sherry, soy sauce, brown sugar and the ⅓ cup pineapple juice in a large bowl. Add pineapple rings and chicken and gently stir to coat. Refrigerate for 15 minutes.
Meanwhile, preheat grill to medium-high.
Remove the chicken and pineapple from the marinade and pat dry; reserve the marinade. Oil the grill rack. Grill the chicken and pineapple until the chicken is cooked through and the pineapple is marked, 4 to 5 minutes per side.
Whisk the reserved marinade and cornstarch in a small saucepan. Bring to a boil and cook, whisking, until reduced and thickened, 2 to 4 minutes. Stir in butter. Serve the chicken and pineapple drizzled with the sauce.