Kitchen Gadgets for Healthy Home Cooks
At the end of a tough day, it can be hard to motivate yourself to cook a healthy meal. We've all been there: sometimes you just have to order in or resort to pre-packaged foods. But make this a habit, and your healthy diet can start slipping — fast. Most restaurant meals are much more caloric than homemade dishes.
By preparing your own fare, you'll have more control over what ingredients go into each serving. And when you have the right kitchen tools on hand, assembling healthy meals can become a cinch. We found these and other gadgets (plus recipes!) that will motivate you to drop that take-out menu and whip up your own five-star meal.
A Perfect Steam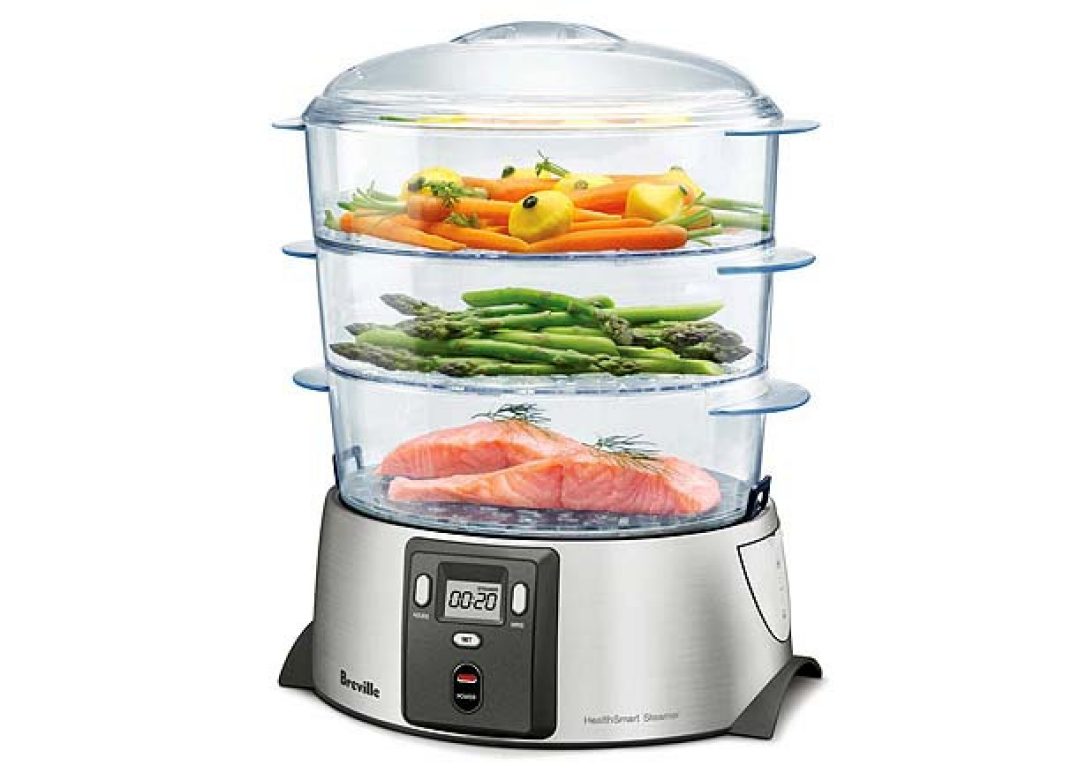 There are so many advantages to owning a food steamer that you're going to wonder why you waited so long to purchase one. Not only is this one of the easiest ways to cook your food, allowing you to throw in the ingredients and press a button, but this is also one of the most nutritious methods of preparing your food.
We all know that food in its raw state has the greatest concentration of nutrients, however, steaming fills the food with heat and moisture without removing the nutrients to the degree that boiling does. That means perfectly cooked food that retains more nutrients and flavor. You can cook almost all kinds of food with steam cooking. Steaming vegetables is easy and fast, and they retain their color, flavor and texture. With proper preparation, thin slices of meat and seafood can be steam cooked in a couple of minutes. And the best part is that cleaning up is a breeze as there is no oil, no smoke and no mess.
Electric Gril
Craving some BBQ? Now you can keep an eye on your protein rain or shine, thanks to the Indoor/Outdoor Electric Grill. Health benefits of grilled food have been cited by many nutritionists across the globe. Be is meat or vegetables the method of grilling brings about a marvelous change in the taste of food which is relished by all.  Instead of cooking in the hot interiors of the kitchen grilling in the open is preferred. It also serves as a nice excuse to get together and spend some relaxed and happy times with friends and family.

Shake and Go
Talk about time-saver — especially during your morning routine.
The blender "to go" is an individual-sized blender and sport bottle in one that is designed to fit your active, fast-paced lifestyle. With quick and convenient blending, you can create your favorite smoothies, protein shakes, and more to enjoy at home, on a run, or at the office.
The easy to use allows you to personalize the contents of your blended beverage and control the ingredients. Simply fill the sport bottle with ingredients from your favorite recipe, blend, and go about your day. Once you have enjoyed your smoothie or protein shake, you can reuse your sport bottle throughout the day to stay hydrated with water and other beverages.
 Yogurt Maker
If you're addicted to Greek yogurt, but not the price tag for store-bought brands, try making your own instead. Homemade batches of protein-rich yogurt is just steps away with the Yogurt Maker. (Plus, you can use soy or almond milk if you're going dairy-free.)