Top 3 restaurants of Amsterdam for exceptional dining experience
The cuisine is diverse in Amsterdam as the city itself with its multi-cultural background. There are eastern eateries and classic French establishments rewarded with Michelin stars so it is hard to choose the best dining venues of all, but I will still try to do it. New Dutch cuisine appeared not long ago and is widely used by many Amsterdam restaurants now that use organic local produce with interesting side dishes and sauces. Some chefs even grow the ingredients on the rooftops or gardens attached to the restaurants.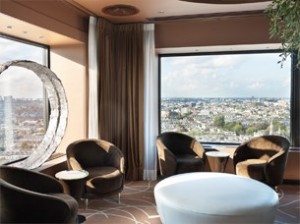 There are not so many restaurants in the capital of the Netherlands with two Michelin stars. One of the finest eateries of Amsterdam with 2 Michelin stars is "Ciel Bleu". The restaurant was evaluated highly thanks to its chef Onno Kokmeijer.
Ciel Bleu is translated as Blue Sky because the dining venue is located on the 23-d store of the hotel Okura. There is the most elegant atmosphere at this place that you can imagine. It is better to make reservation in advance as this is rather popular place. People come to have fantastic meal and have a look at the city from another perspective.
Only local produce is used to prepare delicious dishes, which can be called masterpieces of gastronomy without exaggeration. The visitors enjoy flawless service. The chef always comes up with different surprises for the guests. The meals can be accompanied with the most extraordinary wines offered there. Sommelier Noël Vanwittenbergh will recommend the best match for your dinner.
The extensive menu of the restaurant changes four times annually. Mostly seasonal products are used there. The specific dietary requirements are also catered at this place.
De Kas is a unique restaurant with a nice concept. De Kas is translated from the Dutch as 'greenhouse'. It becomes clear why once you look at its design. The restaurant is located in a former greenhouse. The building is 75 years old. It used to belong to the Municipal Nursery of the city. There is a glass ceiling in De Kas therefore the restaurant is full of light! It creates natural ambiance that is also supported by the concept of healthy dishes prepared from local produce. Herbs and greens are grown right here – in the restaurant or in the farm that is located not far from it. One half of De Kas is used for eating, while the second half is used to grow vegetables and fruit.
The Mediterranean menu is served in De Kas, which includes a starter, main course and dessert. This dining venue is highly recommended when you decide to visit Amsterdam because there is a beautiful Park Frankendael, a former 17th century country estate right beside the restaurant.
The environment is not usual and this contributes to your dining experience. If you want a lunch to remember, it is worth visiting! The restaurant received its Michelin stars for up-to-date dishes straight from the organic garden. There are private dining rooms for guests. You will have to pay 30-50 euros for your meal.
Bord'Eau is a Michelin-starred restaurant that provides exceptional experience for you. The experience is enhanced by the finest wines you can find there. Everything is outstanding about this place: the service, the ambience, and the food as well. If you want to have a special evening with sophisticated dining experience, this is certainly a perfect choice! Its Executive Chef Richard van Oostenbrugge was announced as 'Chef of the Year 2014'. Chef of Bord'Eau has down-to-earth attitude to cooking, which is realized through the menu that is not dull at all, despite his trust in pure ingredients. The dishes served there present an example of high-end cuisine served with taste and style. You may like European lobster with mango, or Dutch oyster in three different ways.
This place offers expensive dining. The cost of meal can be over 150 euros. Is it worth it? Undoubtedly, yes. When you dine in Bord'Eau, this is a real culinary adventure! I would advise to book a window table for a great view over the River Amstel and City Mint that dates back to the 17th century.