How to cook Cuban dishes
If you want to cook dishes of Cuban cuisine you should learn to prepare sauces, which are at the basis of many dishes. Meat is served in light sauces in Cuban cuisine. Mojo sauce is the most popular one.
Mojo sauce
Mojo sauce originates from the Canary islands. People often call it mojito that causes confusion because mojito is a famous cocktail. Mojo sauce is made of olive oil, onion, garlic, oregano and bitter orange juice or lime juice. It often accompanies roast pork.
How to cook Mojo sauce
Prepare the following ingredients:
Olive oil – 1/3 cup
Lime juice or sour orange juice (or 50/50 of both kinds) – 2/3 cup
Minced garlic 7 cloves
Cumin
Pepper and salt to taste.
Take the sauce pan and place olive oil to it. Heat it on the gas and put minced garlic to oil. Fry it for 30 seconds stirring as the garlic should not get brown.
Add juice and spices. Make it boil. Then cool the sauce.
You can use Mojo sauce with sandwiches, meat and seafood, boiled yucca. In this way Mojo sauce can make any meat dish Cuban in a moment if you add Mojo sauce to it. It takes 25 minutes in general to prepare the sauce.
Ropa vieja
Ropa vieja is translated as 'old clothes' and actually resembles it as meat is shredded. This is a kind of beef stew. This dish appeared in Jewish community in the 12th century. Now it is a national dish in Cuba. The residents of Canary islands prepare the dish with addition of potatoes, chickpeas and other leftovers. As a rule, Cuban ropa veiga consists of beef, green olives, tomato-based sauce and classic sofrito that adds Cuban flavor to many dishes. Ropa veija is one of them.
How to cook Ropa veija
Here is one of the variants of Ropa veija's recipes.
The ingredients that you need include:
Strips of flank steak – about 1 kg.
Olive oil – 5 table spoons
Garlic – 5 cloves
Diced onion
Green pepper
A cup of water
Tomato sauce
Safrito sauce
Black pepper to taste
Heat oil and put meat to roast it. Then put away the skillet, add other portion of oil and stir in other ingredients. First – garlic, green pepper and onion and then meat with water, tomato sauce and sofrito. You should simmer meat for an hour or so. The dish is served with rice.
To make sofrito you will need:
10 chopped cherry tomatoes
1 green pepper
1 chopped onion
4 chopped garlic cloves
A bay leaf
Seasoning: touches of cumin, oregano
¼ cup Sherry
Salt to taste
2 table spoons of olive oil
You should sautee the ingredients (tomatoes, pepper, onion, garlic) with seasoning in oil to make them limp. Then add Sherry and simmer the sauce. Sofrito is a key to many Cuban dishes as it gives special flavor to them.
Cuban Flan
The Cubans like very sweet desserts and Cuban flan is one of such dishes. Flan is a custard dessert that has a layer of caramel on top. You need to have a flan mold to cook Cuban flan.
How to cook Cuban flan
Ingredients for Cuban fly include:
Sugar – a cup and a half
6 egg yolks and 3 egg whites
Milk – a couple of cups
Lemon peel
Cinnamon – a stick
Vanilla – 1 tsp
Salt – ¼ tsp
Water – ¼ cup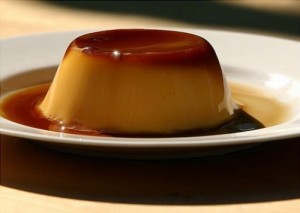 1) Make caramel first. Put sugar to saucepan and add two spoons of water. Mix it until sugar is all wet. Then put on stove on medium heat. The sugar is melting and becomes brown a little – yellowish. Stir it not to burn the mix.
2) Bring to a boil a mix of milk, cinnamon, lemon peel, salt. Cool the mixture a bit.
3) Beat the yolks, whites slightly. Add sugar and vanilla and make it mixed.
4) Pour the milk mixture now and put the egg mixture into the mold with caramel.
5) Put the mold into the baking dish with water. It should reach the half of the mold side wall.
You can cook it on the stove, in the oven or in the pressure cooker. If you do it on the stove, so it until the toothpick comes out dry of it. When Cuban flan is ready, turn it upside down and you will have a layer of beautiful caramel on top.