Exotic and Nutritious Figs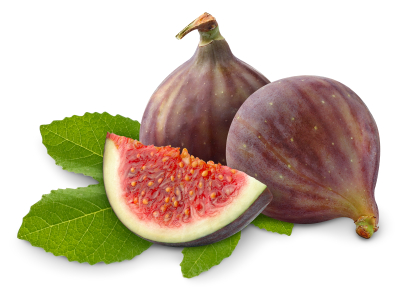 This week's healthy tip is dedicated to figs, wonderful exotic fruit, natural libido booster and nature's medicine. Figs have been a nutritious food source for thousands of years. This sweet fruit is low in calories but rich in minerals and vitamins. One hundred grams of figs have more calcium than milk or any other fruit. Consumption of figs can meet your daily intake for potassium, which helps to slow the effects of sodium, resulting in lowering blood sugar levels. Another element, chlorogenic acid, also helps to control blood glucose levels, which makes figs good for people with type-II diabetes. Figs have a decent amount of magnesium, iron, copper, and manganese. This ancient fruit is an excellent source of strong antioxidants such as flavanoids and polyphenols, which together with antioxidant vitamins A, E, and K, help to protect the body from harmful oxygen and free radicals. Dietary fibre contained in figs promotes healthy digestion, bowel function, and stable weight management.
Tryptophan is also present in figs. It benefits a good night's rest and can be used in treating sleeping disorders. Figs are known as aphrodisiacs for their rich vitamin content and for their symbolism of fertility and abundance. Amino acids present in figs help to increase libido and increase sexual drive. Ancient Roman physicians prescribed figs for restorative effects, energy boost, and preserved health.
Fig trees have been mentioned numerous times in the Bible and the Koran and are known as a sacred tree of Southeast Asia and the Mediterranean region. Fig leaves were used to cover nudity in early church days, and many sculptures and paintings reflected the image of the leaves. One Scripture in the Old Testament suggests that Hezekiah, the ancient Jewish king, used figs to cure plague. Ancient Greek philosopher Plato advised athletes to consume figs to increase stamina. Many years ago, figs were used as sweeteners in cooking, as a laxative in medicine, and as natural Viagra for sexual weakness.
Cooking figs: Fresh or dry figs are excellent energy snacks. Figs go great with nuts and honey; they can also be added into cereal or porridge for a healthy breakfast plan. Figs are often used in desserts and muesli bars, salads, rice dishes, or meat courses.