Delightful Mediterranean Sauce & Extraordinary Sea Bass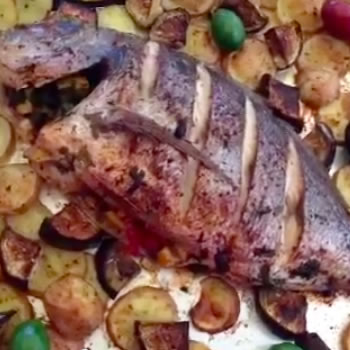 Delightful Mediterranean Sauce
Ingredients
5 tbsp. extra-virgin olive oil
1 medium onion, chopped
8–10 tomatoes, chopped
1–2 cloves garlic, finely chopped
1 tsp. balsamic vinegar
1 bunch basil
½ cup black olives
Pinch sugar
Italian seasoning mix
Salt and pepper to taste
Preparation
Skin the tomatoes by pouring hot water on them. Heat the olive oil in a frying pan, and add onions, tomatoes, and garlic. Cook until the tomatoes are just starting to break down. Add oregano and Italian seasoning mix. Stir in the olives, sugar, balsamic, and basil, and then season to taste with salt and freshly ground black pepper. Cook for a further minute or so, and then serve hot over the preferred pasta.
Extraordinary Seabass
Ingredients
4 seabass fillets
1/4 fresh pineapple
1 bottle teriyaki sauce
1/2 lb. (230 g) fresh asparagus
Salt and Pepper to taste
Preparation
Cut pineapple into chunks, and mix together with teriyaki sauce. Marinate seabass fillets in teriyaki sauce for at least two hours. Preheat the oven to 375° F (230° C) and roast seabass for 10–15 minutes until tender. Slightly steam or fry asparagus. Cut asparagus into small pieces, and sprinkle over the fish. Serve with white rice or young potatoes.